I Love My Dad Because
by Alissa Dinallo (Illustrator); Claire Craig
$14.99
AUD
Category: Activity
This book is for you and your dad. Draw, decorate, colour in, count, fill in the height chart, spot the words starting with 'd' and then present the book to your dad for any special occasion: birthday, Xmas, Father's Day ... or just because. An interactive picture book to personalise for your dad.
$19.99
AUD
Category: Activity
A bumper book of maths fun stuffed with things to draw, puzzle, invent, order, unscramble, code, decode for kids aged 7+ years from Australia's best known maths man. There's magic in maths - if you know where to look...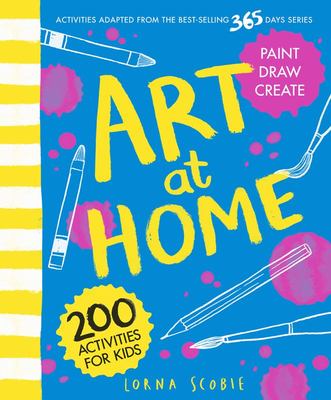 $19.99
AUD
Category: Activity
Art At Home is the wonderful new activity book by best-selling illustrator Lorna Scobie, filled with 200 engaging art activities for children. This creative ideas book features carefully adapted activities from her brilliant 365 series, in a larger format, perfect for kids aged 5-10 and is a great way t o keep your child busy at home, as well as providing a calm and imaginative way to spend time. Activities are varied, ranging from relaxing colouring and pattern-drawing tasks, to thought-provoking challenges such as designing a superhero or sketching a self-portrait. There are no rules in this book, but plenty of encouragement to explore, play and develop artistic skills. You will end up with a book your child feels proud of, as well as plenty of inspiration for further artistic projects. With simple instructions plus helpful prompts and ideas to explore different materials and techniques, Art at Home is the perfect way to get your child thinking creatively and to stimulate their imagination. ...Show more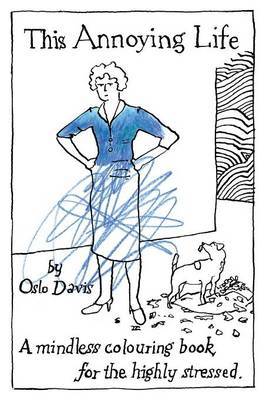 $9.99
AUD
Category: Activity
Within This Annoying Lifeyou'll find scenes of angst and stress ready to receive your creative flourishes. And why not - we're all in this mess together and there's nothing we can do about it! So pick up your pencils, give yourself a moment to have a little cry, then colour your way through the pain of everyday life. Set your imagination free ...... find your way back to you. For adults of all ages. ...Show more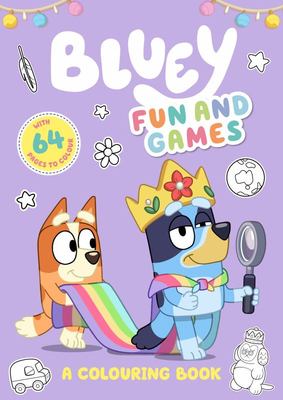 $5.99
AUD
Category: Activity
Colour in the grannies, a game of Featherwand, a trip to Rug Island and more in this fun-filled colouring book. Bluey has been a phenomenal success since airing on ABC KIDS in October 2018, amassing legions of dedicated fans and hugely popular ranges of books, toys, clothes, games and more. It holds the coveted position of being the most watched program ever on ABC iView, with over 260 million plays for Series One, and is the winner of an International Emmy for Most Outstanding Children's Programme. ...Show more
$24.99
AUD
Category: Activity
Take flight around Australia with this aviary of feathered friends - plucked from skies, trees, grasslands, and our vast and varied landscapes - and presented in this 252-piece, illustrated puzzle. With the Birds of Australia Puzzle, you can discover the emu of our red-earth deserts and the cassowary o f our lush tropical rainforests. There's the pesky seagull of our beaches, the warbling magpie of our suburban front yards and the shy albatross soaring through our deep ocean skies. Revel in the beauty of our natural wonders, and keep busy for hours, with this inspiring puzzle. Puzzle measurements are 570mm x 810mm. ...Show more
$9.99
AUD
Category: Activity | Series: Little First Stickers Ser.
The perfect book for any child who is fascinated by big machines. Children will enjoy bringing scenes to life and seeing their favourite vehicles in action. Hundreds of stickers are provided to fill scenes such as 'Monster trucks', 'Mountain rescue' and 'Harvest time', with characterful animals busy at work driving tractors and trucks. Sticker books are brilliant for developing essential fine motor skills and creativity as children carefully choose stickers for each scene. The compact format makes this a handy activity book to pack for a holiday or on a car journey. The reuseable stickers and fold-out page on which to store them makes this the perfect activity book to complete again and again. Text prompts on every page improve vocabulary and provide plenty of things to talk about with a child, too. ...Show more
$24.99
AUD
Category: Activity | Series: Real Pigeons Ser.
Join in the zany world of the Real Pigeons with an action-packed 256-piece puzzle and book set! This set includes the first book in the series, Real Pigeons Fight Crime, where Rock and his mystery-solving friends tackle their first caseload: Why have all the breadcrumbs disappeared? Who on earth is kidn apping bats? And can the pigeons avert a dinner disaster??Ever wonder why pigeons always act so weird? It's because they're out there chasing the bad guys and saving your butts! Did you know your city is protected by a secret squad of crime-fighting pigeons? It's true! With master of disguise Rock Pigeon, bendy Tumbler, strong Frillback and super-finder Homey, the REAL PIGEONS will solve any mystery and fight any bad guy to keep the city safe! Perfect for fans of Aaron Blabey's Bad Guys and Dav Pilkey's Dog Man books, the Real Pigeons series is a hilariously silly and highly visual introduction to the joys of reading and crime-fighting for readers 6+.   ...Show more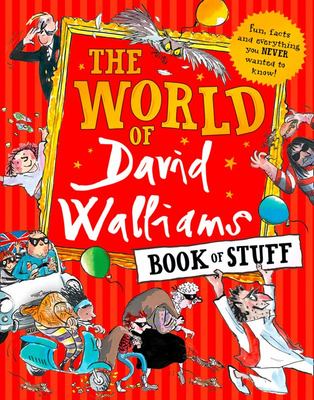 $16.99
AUD
Category: Activity
A spectacularly funny feast of all things Walliams for super-fans, new fans and anyone who likes laughing out loud a lot. In glorious colour throughout! Welcome to the World of David Walliams. This spectacularly funny book is bursting with Walliams wonderment! Insider sneak peeks, brilliant character quizzes, fabulous fun facts, design your own Walliams book cover and meet Raj in a brand new comic book adventure never seen before. You even get exclusive access to behind-the-scenes content from David Walliams himself. Hours of entertainment for all the family and the perfect companion to David's novels. Featuring colour illustrations from the iconic Sir Quentin Blake and the artistic genius Tony Ross. ...Show more
$24.99
AUD
Category: Activity
This box of crayons comes with all twelve characters from the beloved children's book The Day the Crayons Quit, including stubby Blue Crayon, who needed a break from coloring oceans and lakes, and overworked Red Crayon, who had to work on Christmas and Valentine's Day. In addition, a set of twelve lette r-writing sheets and corresponding envelopes are nestled into the box, encouraging children to write letters to their friends, family, teachers, neighbors, and heroes. The papers and envelopes are printed with colors and patterns that bring the magic of the crayons' story to life. Each of the crayons wears a wrapper printed with the characters' memorable faces (with the exception of Peach, who is naked!)- You'll see Purple's exhausted expression, Yellow's jealous grimace, Green's pleased grin, and more. The crayons implore you to bring them home. Will you? ...Show more
$19.99
AUD
Category: Activity | Series: Press Out and Colour
Each press-out design is intricately decorated with foil and perfect for all ages to colour in. Featuring 10 unique designs, the press-out pieces can be slotted together to create bright and cheerful hanging ornaments. From a chirpy robin to a proud peacock, these gorgeous birds are perfect to hang arou nd the home and add sparkle to any setting. ...Show more